See below for hotel information!!!
Check out Clovis
Located in the heart of the great San Joaquin Valley, in the Fresno-Clovis Metropolitan Area, Clovis is situated in the midst of the richest agricultural area in the world. Founded in 1891, and incorporated in 1912, Clovis has long been known as "a way of life." Historic and quaint Old Town Clovis is located within a section of Clovis and home to boutiques, gift and home stores, fashion, bridal salon, day spas, 11 antique stores, eateries, restaurants, watering holes and much more! From May-September there is the Friday Night Certified Farmers Market with live music and entertainment and a new year-round certified Saturday Morning Farmers Market. Join us in our quaint little town and enjoy our events, stores, drinking establishments and restaurants all owned by individuals--no chains or franchises.
Click here for more about Old Town Clovis
Directions
Welcome to BEST WESTERN Clovis Cole!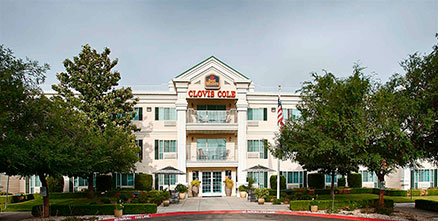 Hotels near Yosemite National Park provide guests with the opportunity to enjoy the natural beauty of the region.
Our Clovis hotel is within walking distance to restaurants and close to shopping and antique shops. Hotels near Mt. Shasta feature stunning views, and our guests are treated to a veritable backyard of outdoor adventure. From skiing in the winter to exploring the hiking trails of Yosemite, there's something for everyone.
Hotels near Fresno make exploring the region easy. From Rodeo Week, courtesy of the Clovis Rodeo, to Clovisfest, there's no shortage of annual events. Guests can enjoy the small-town Big Hat Days right down the street, or take a day trip to one of the bigger cities just a short drive away. From National Parks to big city living, everything is within driving distance.
The great location of our Clovis hotel goes hand in hand with great customer service. Guests are given a warm welcome, and it's easy to discover the best of Clovis on foot. A number of local restaurants, bars and quaint shops are walkable. Whether you're visiting for business or on a vacation, you'll have everything you need right at your fingertips, including free in-room WiFi.
Features & Amenities
- Complimentary Breakfast
- Eco-Friendly Breakfast Made Easy
Free Breakfast
- Complimentary continental breakfast
415 Clovis Avenue
Clovis, Ca 93612-1119, US
Phone: 559-299-1547

Best Western of Clovis is only 1 minute walk to the venue! Right accros the street!
Comfort Suites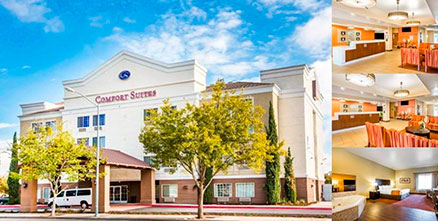 Conveniently located off the Sierra Freeway, less than 10 minutes away from California State University, Fresno, the Comfort Suites® hotel in Clovis offers all the essentials you need to stay on your game and be your best.
You'll find plenty of local sites, activities and attractions near our all-suites hotel in Clovis like the Fresno Yosemite International Airport, downtown Fresno and the Fresno Convention and Entertainment Center, plus:

- Clovis Veterans Memorial
- Save Mart Center at Fresno State
We cater to both vacationing tourists and business travelers alike with complimentary services and amenities such as free coffee, guest laundry facilities and:

Get going with a great breakfast. Start your trip to Clovis with our free hot breakfast offering everything from eggs, waffles and meat to healthy options like yogurt and fresh fruit.
Our 100% smoke-free guest rooms feature refrigerators, microwaves, coffee makers, hair dryers, desks, safes, irons and ironing boards, along with premium bedding and more. Keep your electronic devices charged with the recharge device including AC and USB outlets provided in all guest rooms.
143 Clovis Ave
Clovis, CA, 93612, US
Phone: (559) 299-9992
100% Smoke Free
Comfort Suites is only a 5 minute walk to the venue!